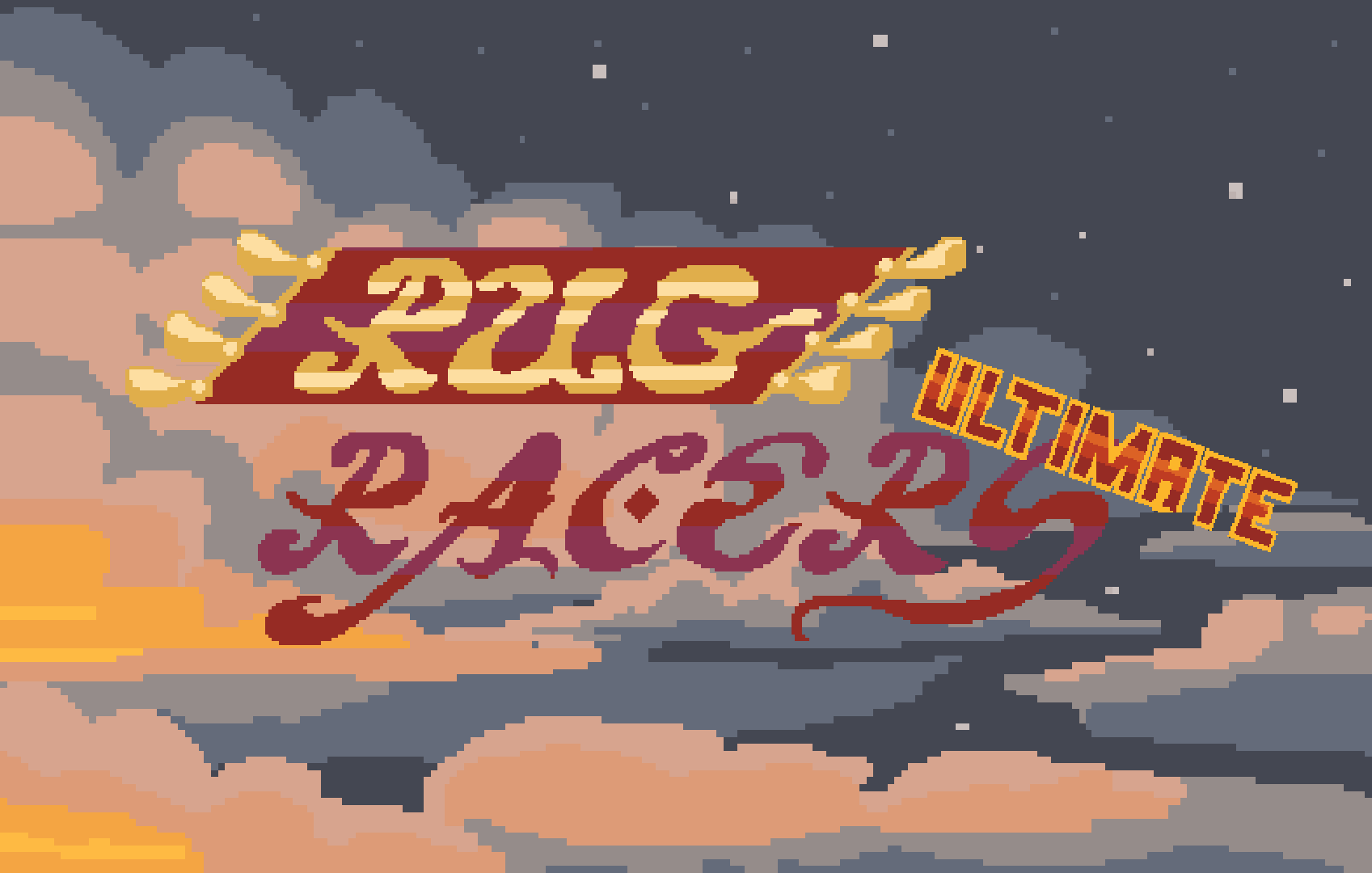 Rug Racers: Ultimate
Thank You!
Thank you to everyone who played Rug Racers: Ultimate at Gotland Game Conference 2022! During which the game won two awards, including Best Presentation and Student Choice! The game was also nominated for Best Game Feel and Public Choice, so thank you so much for your support!
Hop On!
Rug Racers: Ultimate is a multiplayer pseudo 3D racing game with flying carpets that you steer with an actual carpet! Hop on the authentic oriental carpet, grab onto its edge and push it left, right, up and down as you turn and weave through an exhilarating cityscape or feel the freedom and calm above the clouds.
Become the
Ultimate Rug Racer!
Play against your friend, family member or a complete stranger and race to be the first over the finish line. Stay ahead from the start or if you happen to fall behind, take help from your opponent's slipstream to catch up! Knock them out of the way and take the lead to show them who's the ultimate rug racer between you!
Controls!
Switch Controllers:
(connected via Bluetooth ...and maybe attached to a carpet?)
Horizontal Movement: Tilt Controller Left and Right
Vertical Movement: Lift and Tilt Controller Up and Down
To Start: Lift Controller Up
Keyboard:
Movevement: WASD-keys (Player 1) / Arrow-keys (Player 2)
To Start: SPACE-key

The Basterds!
Rug Racers: Ultimate was made by Baltic Basterds, a team of first year game design students at Uppsala University Campus Gotland for the course Game Production 1: Arcade Games.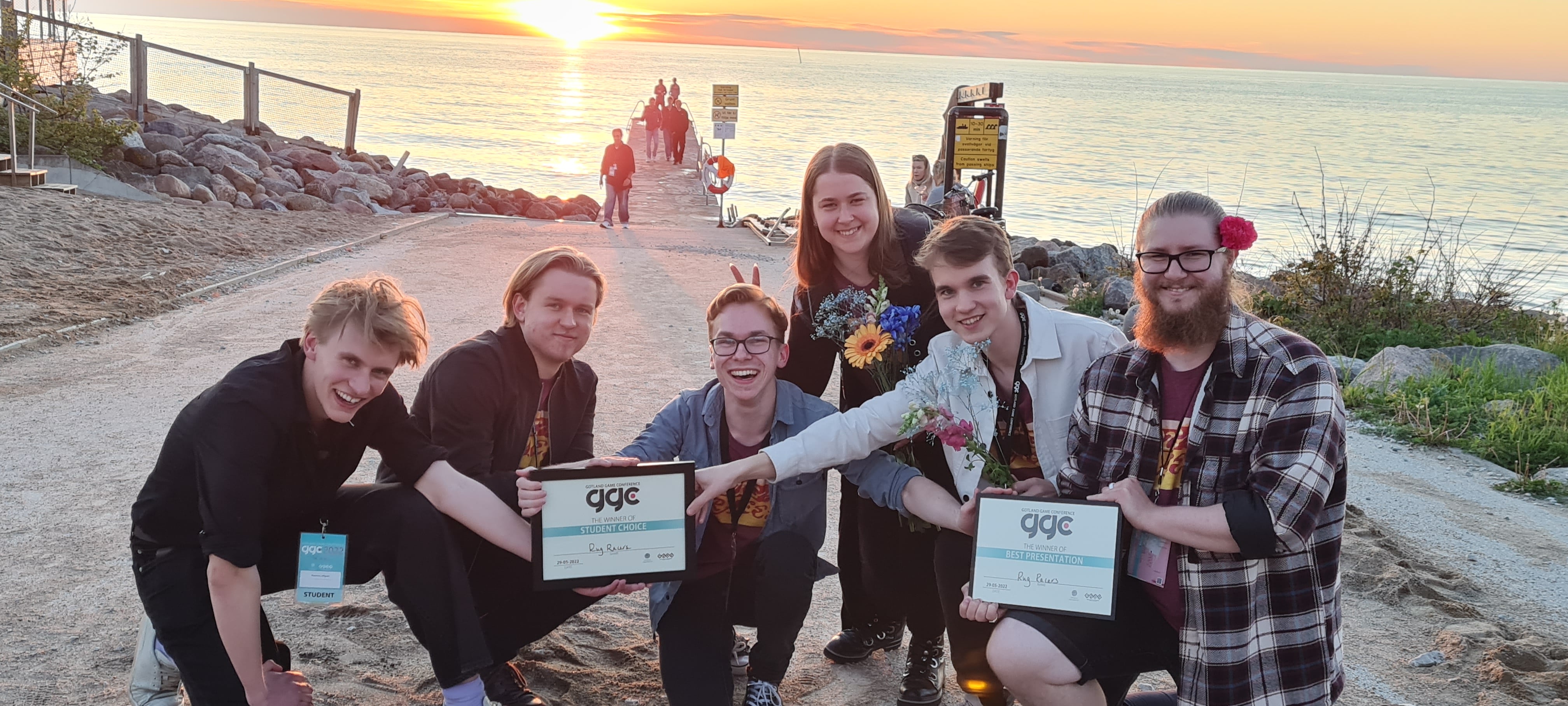 Rasmus Löfgren - PO & Programmer - rasmuslofgren24@gmail.com
Dylan Kühl - PM & Level Design - kuehl.dy@gmail.com
Ottar Paulus - Environment Artist - ottar2000@gmail.com
Alisa Kontorovic - Character Artist - kontorovichalisa@gmail.com
Eero Mutka - Lead Programmer - eero.mutka@gmail.com
Felix Klintö - QA & Hardware Design - felix.klinto@gmail.com
Non-Basterd Credits!
Mohammed Diab - Music
Listen to the Official Soundtrack: https://open.spotify.com/album/2ehXiVkhz8uT0xXra4TTq7

Sound Effects from freesound.org:
Breaking a Vase (remix) by zerolagtim licensed under CC0 1.0,
Rock Smash by NeoSpica licensed under CC0 1.0,
Concrete SMASH 2 by magnuswaker, licensed under CC0 1.0,
Left Gravel Footstep 3 by Ali_6868 licensed under CC0 1.0,
DSGETPOW.WAV by wildweasel licensed under CC by 4.0,
8bit powerup by JavierZumer licensed under CC by 3.0,
Water, Pouring, A.wav by InspectorJ licensed under CC by 4.0,
hey.wav by UncleSigmund licensed under CC0 1.0,
camel.flac by Erdie licensed under CC by 4.0,
Applause 2.WAV by Sandermotions licensed under CC0 1.0,
Cheer crowd by Johanneskristjansson licensed under CC 3.0,
male grunt.wav by lipalearning licensed under CC0 1.0,
BirdBlueJayScreech_BWU.657.wav by basedMedia licensed under CC0 1.0,

woosh.wav by freakinbehemoth licensed under CC0 1.0,
relief breathing.wav by fuchsrodolfo licensed under CC by 3.0,
Wind_Arctic_Storm_Breeze-008.wav by EricsSoundschmiede licensed under CC0 1.0,
intent de crit de wilhelm.wav by clavellmorenet licensed under CC0 1.0

Install instructions
Download and unzip the file, click on the executable to play! (optional: connect Switch controllers through Bluetooth for the ultimate experience)